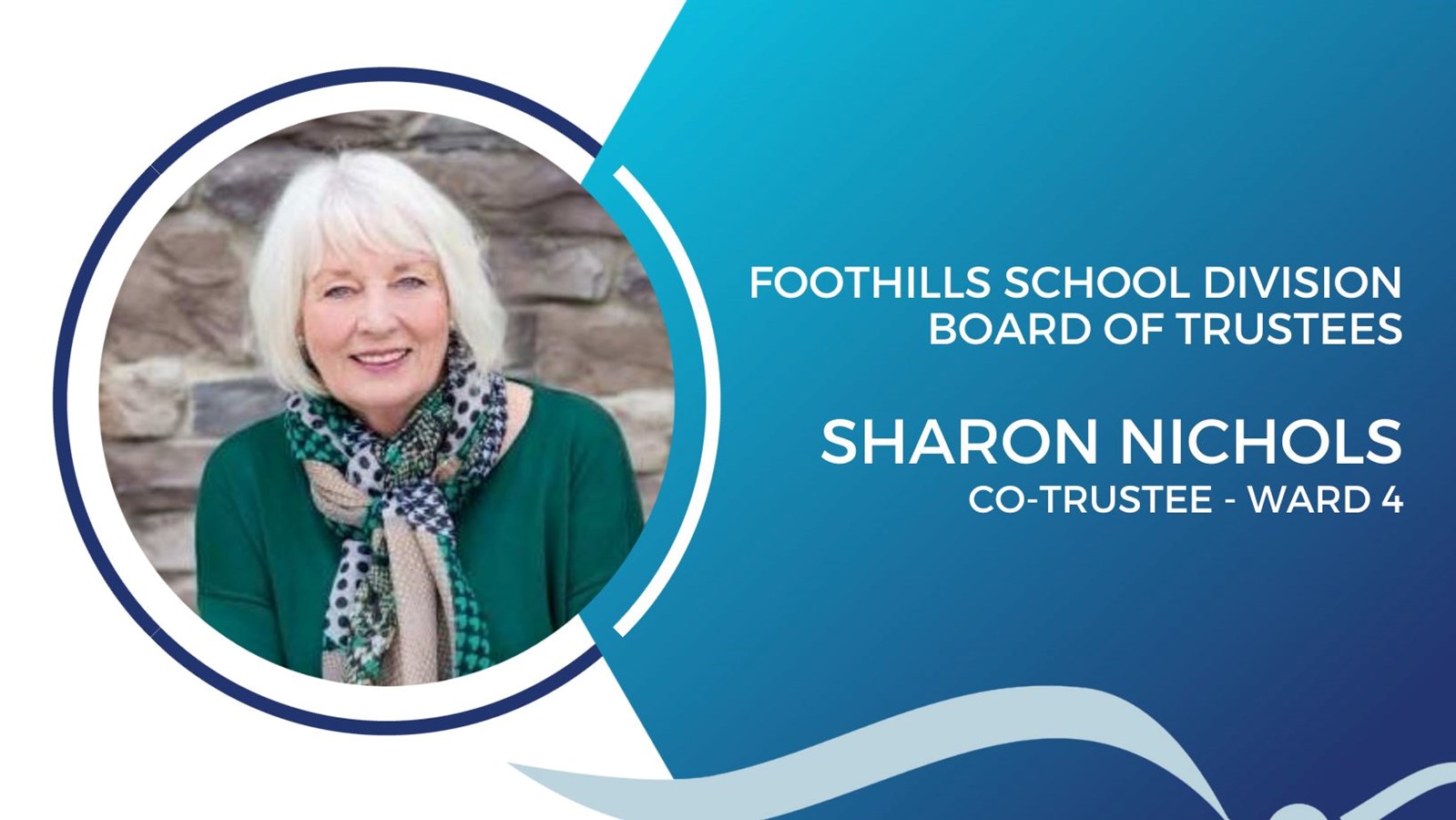 Ward 4 69堂精品app
Big Rock
Cameron Crossing
Dr. Morris Gibson
Foothills Digital School
École Foothills Composite High School / Alberta High School of Fine Arts
Meadow Ridge
École Okotoks Junior High
École Percy Pegler School
Westmount
Ward 4 has two Trustees. See also Lisa Penzo.
---
Sharon Nichols
Ward 4 Trustee
(403) 617-1748
nicholss@fsd38.ab.ca
Sharon Nichols was first elected as a 69堂精品app Trustee for Ward 4 in October 2017. She is committed to ensuring access to consistent, high-quality education for all learners in safe, caring and welcoming learning environments.
Sharon was born in Calgary and, after completing a Bachelor of Arts degree from the University of Calgary graduated from Ottawa Teachers' College. Throughout her career in education, she has held teaching, administrative and curriculum leader roles. Upon leaving the classroom, Sharon served as a Learning Leader for the Calgary Board of Education, then as director of education at the Calgary Urban Project Society's One World Child Development Centre, where she guided programming to ensure quality learning experiences for early childhood learners. Sharon is an instructor at the University of Calgary's Werklund School of Education teaching undergraduate courses in curriculum studies and assessment practices, as well as supervising and mentoring student teachers during their field experiences. Sharon's volunteer commitments have included supporting new Canadians in learning English and serving as a Trustee and Board Chair with the Okotoks Public Library. She also served as a member of the Okotoks Post-Secondary Education Committee, investigating avenues to expand post-secondary learning opportunities in this community.
Sharon and her husband have two adult children and are proud grandparents of four amazing children.